You are here
Delivering Green Marketing, Tony Wijaya is A New Professor in FEB UNY
Submitted by

fe

on Tue, 23/05/2023 - 09:29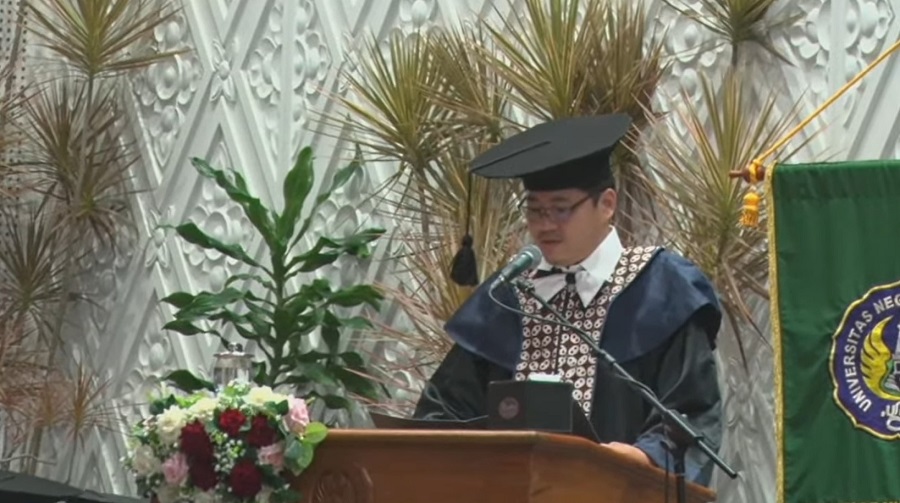 Tony Wijaya, a lecturer in the Department of Management, was inaugurated as a Professor in the Field of Marketing Management at the Faculty of Economics and Business (FEB) UNY at a ceremony at the UNY Rectorate, last Saturday (6/5). Tony delivered a speech entitled "Green Marketing Orientation in Creating a Sustainable Business".
Lately, the theme of "back to nature" seems to be echoing a lot. The negative effects of using non-natural materials are increasingly being felt by humans and the environment. This is supported by scientific data from researchers and environmentalists that damage to nature and health occurs all over the world and is followed by other phenomena such as global warming, production waste, pollution, and others.
This environmental issue also turns out to be undeniably touching and endangering the business world. Today, society views companies that are unable to manage the environment as not viable businesses and will be abandoned by the market. Companies are considered to have a social responsibility towards the environment as has been done in the corporate social responsibility (CSR) scheme. The industrial world is socially responsible for maintaining the environment proportionally.
Therefore, green marketing appears as a solution to efforts to maintain the sustainable existence of a business cycle. Environmentally-oriented marketing or green marketing aims to make the business approach sustainable and go hand in hand with the interactional balance of consumers with nature.
Green marketing trends have also received attention from researchers. The number of publications and research citations on green marketing, especially in the period 1977 to. 2020 as quoted from Saleem et al. (2021) shows improvement.
According to Tony, several factors cause companies to implement green marketing. First, the factor of corporate social responsibility is an important industry issue. Second, many governments in the world have now established rules to save the environment from industrial impacts. Third, green marketing orientation is a competitive advantage for businesses, and companies that implement it tend to gain public sympathy. Fourth, green marketing provides opportunities for companies to be more efficient in production and at the same time reach environmentally conscious consumers. (fdhl)
Faculties, Graduate School, and Institutions
Contact Us
Faculty of Economics - Universitas Negeri Yogyakarta
Address: Karangmalang, Yogyakarta, Indonesia
+6274586168 Ext. 1817, 1812, 1813