You are here
Magfirani: A Glimpse of Becoming an Exchange Student
Submitted by

fe

on Tue, 23/05/2023 - 14:55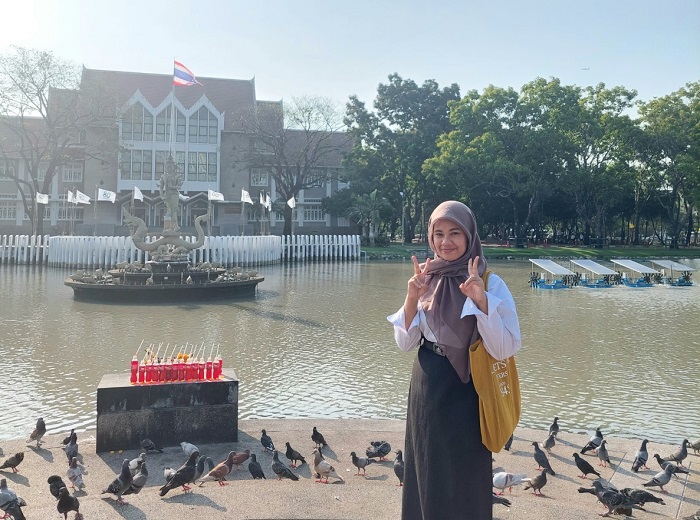 Magfirani, a student of Accounting Study Program tells her story during her student exchange program in Thailand:
The time passes by so fast. I can still remember how awkward I was on my first day of class, and now I am preparing to leave this country.
Studying at Kasetsart University in Thailand and getting the opportunity to major in my expertise is the most exciting part of this study exchange. I can learn more about marketing. I can understand the locals well because most of my friends are Thai citizens. I can improve my English skills, whether speaking, listening, or writing. I can also get out of my comfort zone.
Here, I am enrolled in three different classes; tourism marketing, integrated marketing communication, and digital marketing. Each of these classes provides a unique way of studying. However, before we jump into the details of each class, I would like to inform you about how we called our professor in Thailand. So, in Thailand, two words are used for the English word "teacher"; they are "Kru" and "Ajarn" in Thai. They both mean teachers, but we usually call our professor "Ajarn". Now, let's dig more into what my class looks like.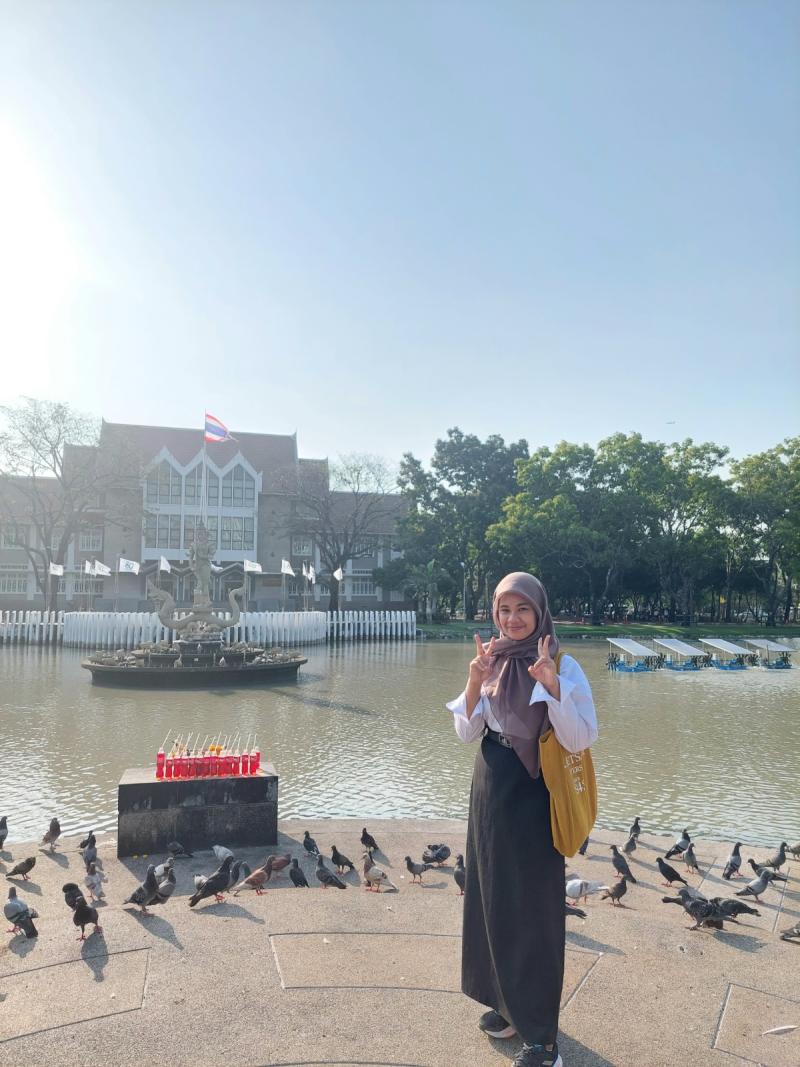 In Tourism Marketing, our professor is more likely to direct us to work in a group, and there is a small quiz before entering midterm and final exam weeks. While in Integrated Marketing Communication (IMC), our professor emphasizes group work to encourage students to think critically when creating creative marketing campaigns. Lastly, in digital marketing, Professor Matthew gives us a chance to choose whether to work by group or by individual. He usually gives us a weekly task and even gives us a free book written by him.
Apart from class, I also joined a club. It is the Kasetsart University (KU) Muslim Club. In this club, I can share my religious experiences with my Thai Muslim friends; we discuss current issues and how to combat them as a youth representative; and so much more. I was also able to meet other Thai Muslim students outside my university; to be precise, they are from Thammasat University and Chulalongkorn University.
When people asked me, "Do you only have Thai friends there?" The answer is no. Thanks to my dormitory, many international students from Japan, France, Russia, the Czech Republic, India, Cambodia, Myanmar, and more are living at our dormitory. This multicultural experience that we get nowhere else is something that I am grateful for.

Being involved in this student exchange has opened my eyes to how much of an impact it has had on me. I can experience new places and cultures, make friends from other parts of the world, and gain a global perspective.
This whole experience would last in my heart and mind forever.
I can't believe that I am in a position where I have already finished my final exam and final project. At the moment, I am doing my internship at the Embassy of The Republic of Indonesia in Bangkok and positioned in Fungsi Ekonomi.
Last but not least - a little quote. Goodbye may seem forever. Farewell is like the end. But in my heart is the memory, and there you will always be.
Faculties, Graduate School, and Institutions
Contact Us
Faculty of Economics - Universitas Negeri Yogyakarta
Address: Karangmalang, Yogyakarta, Indonesia
+6274586168 Ext. 1817, 1812, 1813